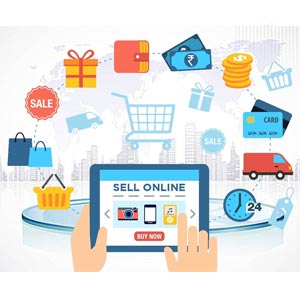 11 Steps to Launching an Online Business in 2022
As a result of shoppers being stuck at home due to the recent Coronavirus, there's been a huge jump in online sales. We've created an overview of the 11 steps for building and starting a successful online business in 2020:
1. Find a niche
Before you start selling, you'll need to find the right product (or service) with the potential for serious profitability. What do shoppers want, and what would they be most interested in? Start doing some research on  different niches, and even look at your own life to find problems that could be solved.
2. How easy (or difficult) will it be to sell your product?

Now that you have a great business idea, it's time to look further into how easy or difficulty it will be to sell your product. Think about the kind of details that can make or break your business, like number of SKUs or shipping weight.
3. Do some market research
Try to validate your product using tactics like keyword research and evaluating trending products. Do your keyword searches result in thousands (or even millions) of results?
4. Do some "competitive analysis"
Find out what's working — and what can be improved upon — from your biggest competitors. This will tell you more about how to define your branding and positioning in the market.
5. Learn or research online business laws
Shipping restrictions, zoning laws, and trademark considerations. With this list, you can avoid the ecommerce landmines that could derail your business before it gets off the ground.
6. Analyze your target market
This is where you dig even deeper to understand your perfect shopper. Who are they? What do they like? How can you custom tailor both your product and your website experience to appeal to your perfect shopper?
7. Source your product
You know you have the right product, who your customer is, and how to set up your business. It's time to get the physical product. We can help you by walking you through the different ways to source your product, drop shipping, and how to avoid any common pitfalls.
8. Choose a place to sell your goods or services

You'll need a website ecommerce store (or another place) that sells your product, provides a nice shopping experience, and makes customers want to keep coming back. We'll be able to show you how to go from zero to having a beautiful online store in short amount of time using powerful ecommerce software (spoiler alert – we have a recommendation). If you'd rather go another route to sell online, (like Amazon, eBay, Etsy, etc.) you'll need to learn about their selling policies, fees, and terms. Then have a look at seller reviews before you make your decision.
9. Master small business shipping
Shipping is a big topic for brands and customers alike. Learn the costs involved with the various carriers, and decide what the best approach will be for your business, and your customers.
10. Launch your store
You've got the right platform, website, and product. Pretty exciting! Make sure you're prepared for orders and inquiries.
10. Start driving online traffic
Once you've got your store up and running, it's time to learn about continuing promotion techniques, and some tactics to get more visitors to your store. Social media can be a big boost, as well as direct mail and email newsletters. We can help.
Lastly, keep promoting!
Call us anytime for free advice and consultation, (262) 302-0651
https://www.media3group.com/wp-content/uploads/2020/03/selling-online-in-2020.jpg
300
300
cindyb
https://www.media3group.com/wp-content/uploads/2019/07/media3groupllc-logo.jpg
cindyb
2022-02-17 13:19:51
2022-06-01 15:05:57
11 Steps to Launching an Online Business in 2022