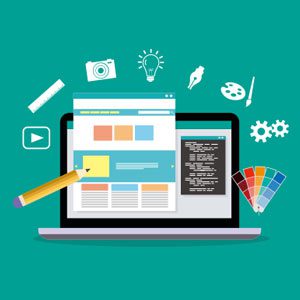 5 Signs You Need A Website Redesign
All website owners should periodically review their website's design to look for opportunities for making it better. Here's  5 surefire signs that you need to redesign your site altogether.
1. It's Been Years Since You Last Changed Your Website
Best practices in web design are constantly changing. Just because your website was intuitive (and interesting!) to visitors five years ago doesn't mean that it is today.
And if you haven't done a complete update, or any revisions in a few years, chances are you're missing out on opportunities to get the most out of your website based on current Search Engine Optimization trends, research, or new technologies.
If your last site design or revisions were several years ago, you should at least do a thorough review to determine if your website currently meets the needs of your audience, your company/ brand, and could benefit from a complete redesign.
"The objective of a website is to bring a visitor who will bring another visitor."
2) Your Site Traffic is Consistently Bad
If your page views, time people spend on pages, and conversion numbers have been poor for a while, even after attempts to optimize, then it's likely time to overhaul your site. If you're not getting enough traffic to meet targets, you should both analyze your online marketing and look for ways to strengthen your website.
Redesigning your website is an opportunity to analyze your competitors and spot missed Search Engine Optimization opportunities, with the goal of creating a version of it that will do better in Search and attracting more visitors.
If you're lucky enough to be getting decent traffic, but visitors click away immediately and never come back, you've still got a problem. A good website is designed to make visitors stay ("sticky"), click on other pages on your website, and come back to see more.
You'll need to think about your site strategy and look for ways to redesign it to generate longer, repeat visits with useful content and compelling "calls to action." (CTAs)
3) Your Website Isn't Mobile-Friendly
One of the biggest website sins in 2021 is having a website that's not mobile-friendly.
I can't stress this enough. If your website is hard to see (or use) on a small screen, visitors will click away in a New York Minute, and search engines won't promote you in the rankings.
This point is, this is probably more urgent than anything else on this list. If your website isn't mobile-friendly, a website redesign project is imperative.
4) Your Business Strategy Has Changed
For many businesses, a new year means revisiting its business plan and determining if its overall strategy and goals need to change. Every time your business starts a new strategy – creating a new selling approach, launching a new product, or deciding to target a new audience, etc – you need to consider whether your website will match your goals.
5) You're Tired Of Your Website
This can be enough of a reason. If you're no longer happy with the site you have (maybe you want different colors, the design looks old, or you've recently discovered a few sites that look better to you) that can be a good enough reason on its own to change your site to better match what you really want. Just make sure it's something your target market will want too.
TIP:
A successful website redesign doesn't require starting from scratch: you can still use a lot of the pages you already have, but look for ways to improving them.
Ready for a Free Consult? Give us a call at 262-302-0651 or tell us how we can help.
This article was provide by Media 3 Group and Jacob Class

https://www.media3group.com/wp-content/uploads/2021/03/fivesigns-you-need-a-website-redesign.jpg
300
300
cindyb
https://www.media3group.com/wp-content/uploads/2019/07/media3groupllc-logo.jpg
cindyb
2022-12-20 11:28:10
2022-12-30 12:35:32
5 Signs You Need A Website Redesign