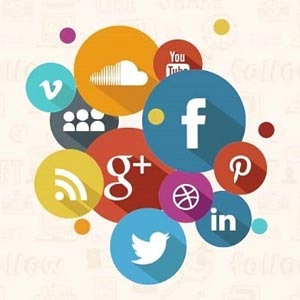 What is Social Media Marketing?
Social media marketing, or SMM, is a form of internet marketing that involves creating and sharing content on social media networks in order to achieve your marketing and branding goals. Social media itself is a catch-all term for websites that provide different social actions.
For instance,
Facebook, in contrast, is a full-blown social networking site that allows for sharing updates, photos, joining events and a variety of other activities.
Twitter is a social site designed to let people share very short messages or "updates" with others.
Linkedin is designed specifically for the business community. The goal of the site is to allow registered members to establish and document networks of people they know and trust professionally.
Instagram that allows users to share photos and videos from their lives, add captions, edit filters, tweak settings, engage with others, explore and creep, and so, so much more
Pinterest that allows users to visually share, and discover new interests by posting images or videos to their own 'pins,' usually with a common theme and browsing what other users have pinned.
YouTube is for sharing the video. Millions of users around the world have created accounts on the site that allow them to upload videos that anyone can watch.
Google+ design to replicate the way people interact offline more closely than is the case in other social networking services, such as Facebook and Twitter.
Top 5 Social Media Advantages are:
Increased Brand Awareness – Implementing a social media strategy will greatly increase your brand recognition since you will be engaging with a broad audience of consumers.
More Inbound Traffic – Every social media profile you add to your marketing mix is a gateway to your website, and every piece of content you post is another opportunity to acquire a new customer.
Improved Search Engine Rankings – Although posting on social media might get your business some site traffic, more effort than that is required to see significant success. Search engine optimization is very important for achieving higher page rankings and obtaining traffic to your business website.
Higher Conversion Rates – Every blog post, image, video, or comment may lead viewers to your company's website and increase traffic. Social media marketing allows your business to give a positive impression through a humanization factor.
Better Customer Satisfaction – Social media is a networking and communication platform. Creating a voice for your company through these platforms is important in humanizing your company. Customers appreciate knowing that when they post comments on your pages, they will receive a personalized response rather than an automated message. Being able to acknowledge each comment shows that you are attentive of your visitors' needs and aim to provide the best experience.
You might be interested in: 5-foolproof-ways-to-get-more-likes-on-your-facebook-page

Need more ideas or have a question? Give us a call or contact us right here.
https://www.media3group.com/wp-content/uploads/2019/12/what-is-social-media-and-why-do-I-need-it.jpg
300
300
cindyb
https://www.media3group.com/wp-content/uploads/2019/07/media3groupllc-logo.jpg
cindyb
2019-12-13 18:04:46
2019-12-13 18:20:46
What is Social Media Marketing?