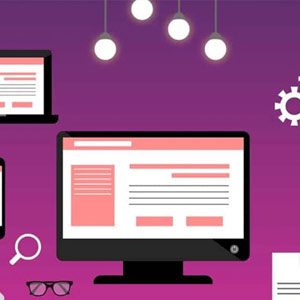 7 Tips for Starting a Small Business Website
Building a Website For Your Small Business? Start Here.
Decide who will make your website
Some business owners try to design their own websites, which isn't a bad idea if you have the technical knowledge (or design skills) to do so. There are many programs and web development tools available today that you can use to develop your own site.
As an alternative, investing in a web design company is another option, especially if you aren't technically savvy, or if you want a very elaborate website with lots of bells and whistles. An experienced web designer will be a good investment. If that's the case, be ready to share your goals and vision with them for your ideal website.
Planning your content
Planning for what content you'd like to have on your website (in the form of an outline or a draft) should be your first step. The main reason for having a website in the first place to share information about your business to new customers. You'll also have the opportunity to educate them on what's new, special promotions, new locations, and more.
7 Small Business Website Tips
1) Easy navigation is key
Most first-time website visitors expect to find the exact information they're looking for quickly and easily.
Designing a website that gives the consumer information quickly increases the chances they'll return to get new information in the future. From a consumer's perspective, they have a goal when navigating a website, such as looking for an item's price, or finding your phone number. If a website is confusing, with visitors having to click and search around everywhere to find the information they want, they might become frustrated and decide to move on.
In short, your website's navigational menu should be clear, concise, and self-explanatory. If your site is bland, unattractive, or hard to navigate, you run the risk of losing customers to your competitors, which can be costly in the long run.
2) Prioritize your mobile website

Your small business website also needs to be adapted to mobile platforms. About 96% of Americans own a cellphone, and they use them to search the web. Remember, you don't need to design a website all by yourself. If optimizing your website for mobile devices proves to be impossible, hiring a web developer is recommended. A web developer has the skills to optimize your website in many ways that will help you get more visitors and higher-quality leads.

3) Keep your identity consistent

Having a prominent and consistent brand identity online is important. This increases the possibility that new customers will remember and recognize you in different places. They'll be more likely to seek out your business when they're in the consideration phase of their buying journey if they remember your business.
Consistency is vital. Consumers will have more trust in you if your communications have a familiar look across all your social media platforms and website – and even in print media. On your small business website, you can coordinate your brand consistency by using your company's color palette, art elements, and typography throughout your entire website.
4) Include plenty of visuals

Visual elements such as images and videos play an important role in web design to attract visitor attention. People are driven by the visual appeal or attractive qualities of a product and its benefits. By using eye-catching images and engaging videos of your product or service, your visitors will be more likely to do business with you. However, it's crucial not to go over the top by adding a bunch of images to all your web pages. It's best to add images and videos where they're going to be the most helpful for people.
5) Include interesting content

Great content is what distinguishes one website from another. Your visitors are going to be spending the majority of their time reading your web copy, so it needs to be good. Your content should be written for the sole purpose of giving genuine value to your target audience. Your contents need to reflect your brand, from the topic to the tone.

When writing your content, it's important to make sure that all of it is written concisely and without any errors (or typos), so that your message is clearly conveyed. Writing with purpose is the ultimate goal. After all, a website with little or no relevant written content will be disengaging.
6) Calls-to-action

A great website wouldn't be complete without a call-to-action page or a form to attract new customers. A call-to-action is a feature on a web page that can compel a visitor to take a particular action, such as filling out your contact form, or signing up for your newsletter. A major benefit of having a call-to-action on your website is that it has the potential to increase the revenue of your business, while also building your customer base.
7) Boost website load speed

There's nothing more annoying for the user than a slow website. In business time is money, and as a business owner, you need a website that's fast. A fast loading website is a great asset to have both in terms of usability and search engine optimization (SEO). As businesses grow, their websites often become complicated, which can take a toll on performance. Therefore, it's strongly recommended to maximize the loading speed of each web page so your visitors can navigate throughout your website with ease.
There are many factors that affect the loading speed of a web page, like the file size of images and videos. In this case, an experienced web developer will be able to identify elements on each age that are causing issues on your site and remedy the problems.
Compressing media files and installing website speed plugins are some of the ways to increase web page loading speed. Page speed is an important part on how your website will rank on search engines, too. The faster your website loads, the greater the chances it will rank high on Google. By the same token, if a web page takes longer than normal to load, your website visitors will grow impatient and be compelled to seek information on a competitor's website.
Ready for a Free Consult? Give Cindy a call at 262-302-0651 or tell us how we can help.
You might be interested in:
"8 Benefits of Branding – Why you Need a Strong Brand"
Article content was provided by Media 3 Group and Jacob Class

https://www.media3group.com/wp-content/uploads/2022/12/Starting-a-New-Business-we-can-help.jpg
300
300
cindyb
https://www.media3group.com/wp-content/uploads/2019/07/media3groupllc-logo.jpg
cindyb
2022-12-29 14:22:47
2022-12-30 14:02:12
7 Tips for Starting a Small Business Website